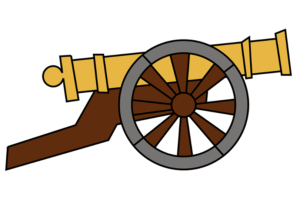 As the S&P 500 swooned to a new low in late May, down 20% from its peak, I bought more shares. I have now nearly one-third of my dry powder cash invested in stocks. What did I buy? Here's a list of all my stock purchases since this drawdown began late last year: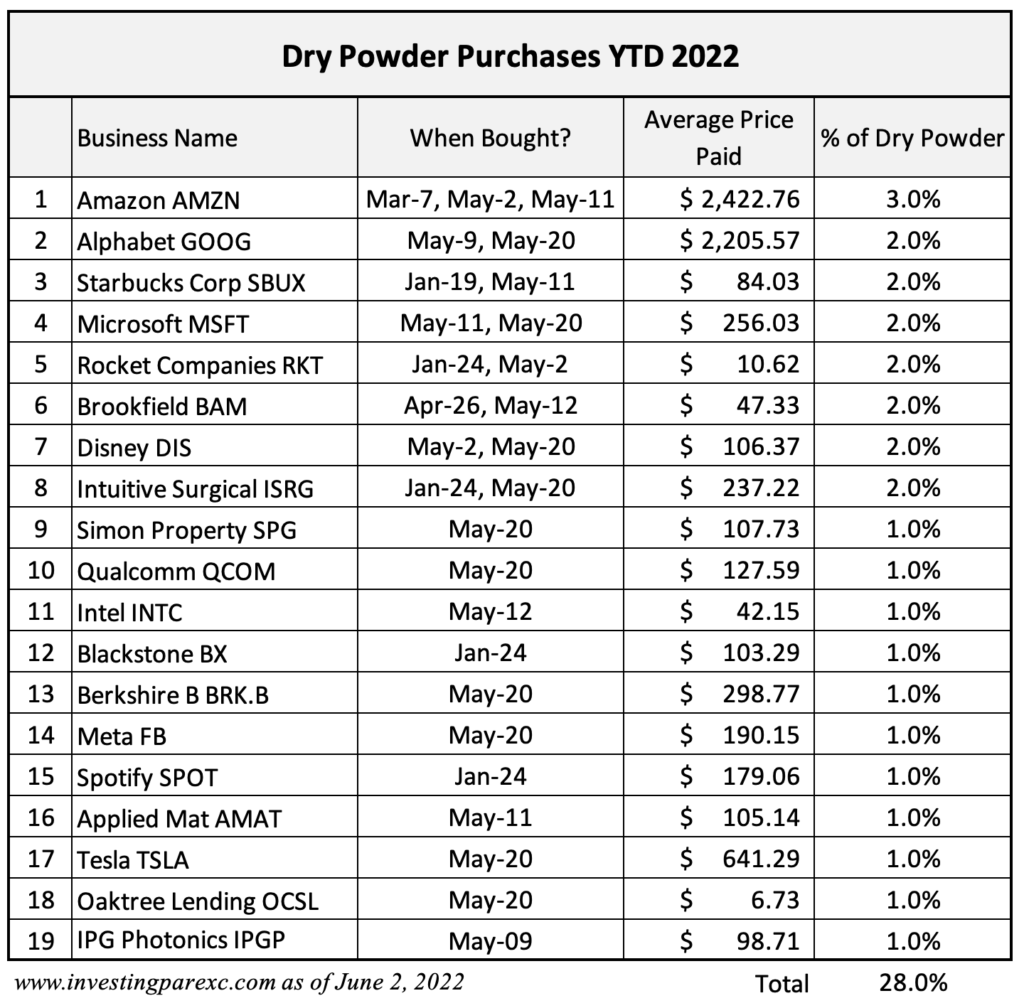 In my March blog post, I showed what I had bought so far. Those purchases amounted to about 6% of the dry powder. As stock drop accelerated in May, I ended up investing another 22%, resulting in a total of 28% of my dry powder deployed.
None of the stocks that I bought last month were new to me. I bought more shares of the businesses that I was already familiar with. I have written about all of them in various previous posts. [Use the search button on this web site to find relevant posts.]
As of June 2nd, the S&P 500 index was off its peak by about 15%. NASDAQ was down 25%. My total portfolio (mostly stocks plus some cash and real-estate) was down by about 21%. When I wrote about my portfolio's five-year performance in January, I noted that my outperformance over the S&P 500 and the NASDAQ indexes was due to my technology holdings. See this post. I also said in that post that it's possible that the tide will turn in favor of non-tech stocks during the next five years. Maybe it has, or maybe it hasn't. Only time will tell. But it's clear that today my significant YTD underperformance relative to the S&P 500 is due to those technology holdings of mine.
Along those lines, here's a list of top negative contributors to my portfolio performance since its peak in November 2021: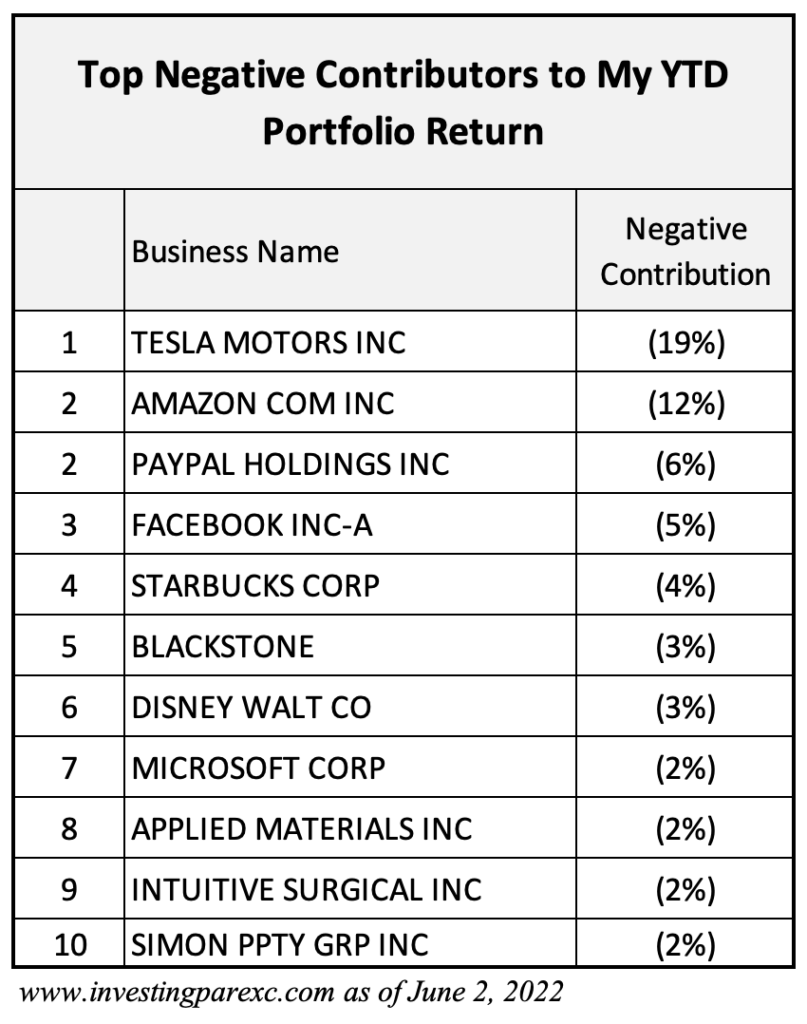 Tesla and Amazon have been the biggest detractors to date. But this is not to say that I am disillusioned with either business. I still believe in the strength of their business models. Out of these 12 businesses, I bought more shares in eleven of them (including more Amazon and Tesla), as you can see from the first table. PayPal was the only company whose shares I hadn't bought in this market drawdown. Though I have kept what I had already owned.
I have a long history of investing in times like these. I keep dry powder cash in my portfolio and deploy it whenever the market drops more than 10%. See my three-year history of dry powder here. The last time we had a big market selloff, it was two years ago in March 2020. Back then, the S&P 500 dropped 35% and I was able to deploy 70% of my dry powder. See this post for what I bought then. In today's downturn, I bought many of the same stocks again. In fact, from this table (reproduced below from that March 2020 blog post), ten of eighteen stocks are common with today's purchases. They are all good businesses. Even those that I didn't buy in today's downturn, I still have them in my portfolio. The only two exceptions are Brookfield Property (BPYU) and 3M (MMM). Brookfield Property is no longer a public entity, as I wrote about it here. 3M is a good business, but it is saddled with some potential litigation costs that I am unable to assess at this time. So I have been drawing down my 3M position gradually.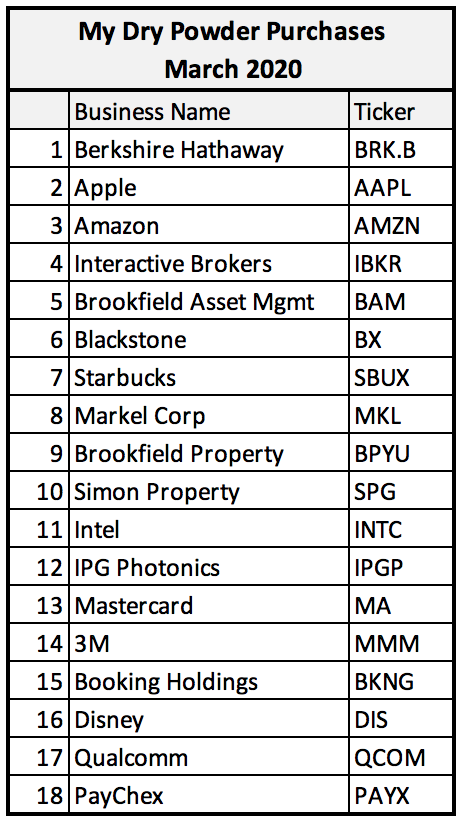 Where's the market going to go next? I try not to indulge in this prediction game. I don't know when this drawdown will end. It seems to me that higher interest rates and, as a consequence, a slowdown in the US economy is already priced in by investors. But perhaps a full-blown recession is not yet considered a fait accompli. If the Fed causes a recession to control inflation, it appears to me that the stock market will drop down further from here. I don't know if a recession is in the cards here. But I am careful in picking stocks that I believe are resilient to any economic shock. I believe the businesses I've picked up will survive a recession and potentially become stronger as their competitors weaken in tough economic conditions.
Two years ago when we had the Covid induced global recession, I did a blog post (Buy businesses that are recession proof) where I shared three different measures of assessing business strengths: economic moat, financial strength, and earning predictability. Check out the previous link if you want to know more about how these were measured. While not perfect, these ratings give us a good view of each business' resilience (where such measures are available). The table from 2020 can be seen here. Below, I have recreated the same table, albeit with my new 2022 dry powder purchases.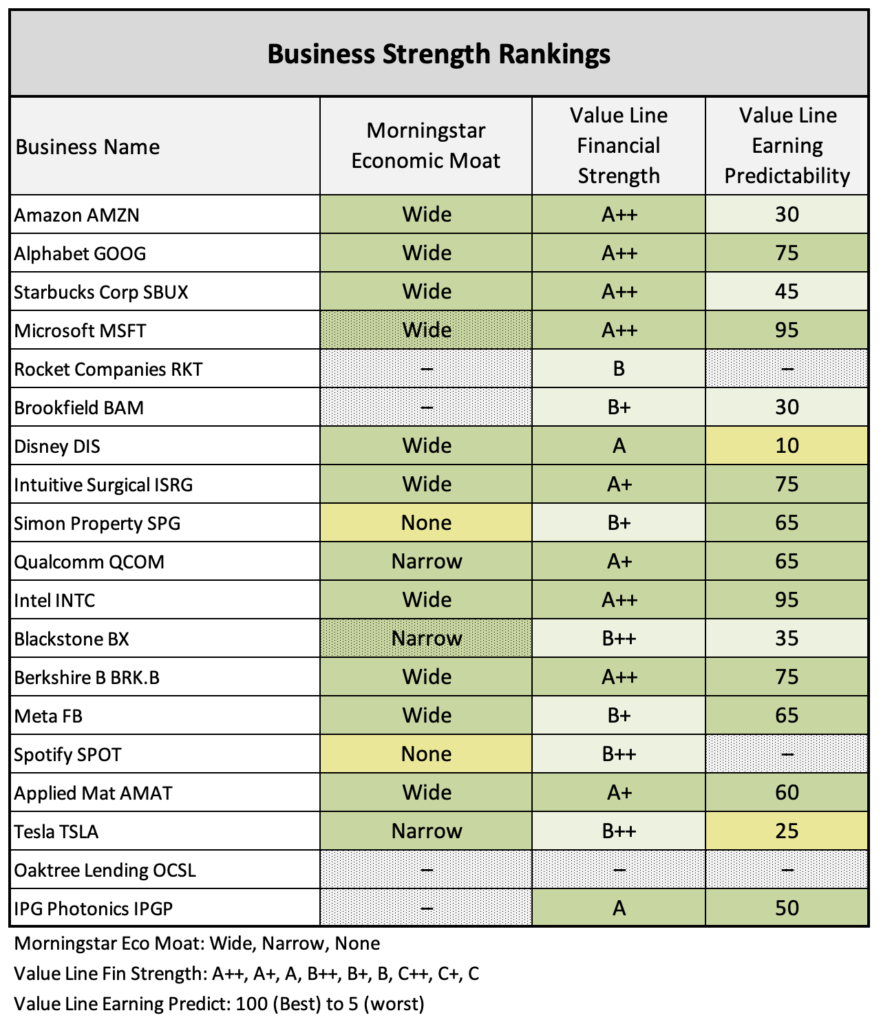 You can see that most of my recent purchases are highly ranked by Morningstar and Value Line. They are considered durable businesses that are likely to outdo their competitors and have financial wherewithal to endure difficult economic times. There are a few that are either not covered or given low marks (highlighted with yellow or grey). Nonetheless, I have done my due diligence on each one of them and feel comfortable owning them for the long haul. There is a good chance that all these businesses will survive and eventually thrive as the economy dips and then recovers from here.
If Mr. Market panics further from last month's lows, I stand ready to scoop up more shares. I have 72% of my dry powder cash still on the sidelines.