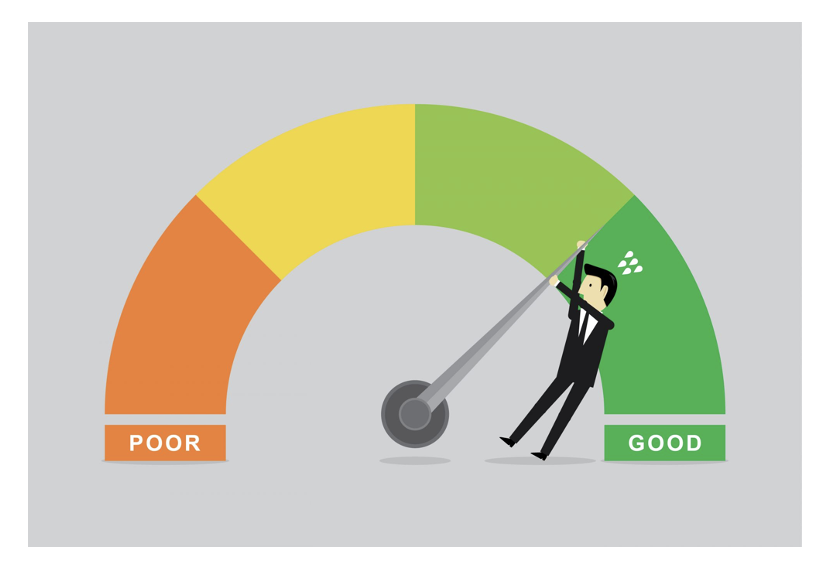 I admit that my stock portfolio is not doing well this year. Nearly all my major holdings are down by double digits. More than half are down by a third or more. Five are down by 50%. My top 25 holdings make up vast majority of my stock portfolio – about 88% of it. Here is the full table:
As you can see from the table, only two of my positions are in green this year: Activision and UnitedHealth. Both are anomalies in today's widespread market downturn. Activision Blizzard (ATVI) is in the process of getting acquired by Microsoft, so it hasn't trended down with the market. UnitedHealth Group (UNH) has also bucked the trend; managed health care businesses have been resilient in this bear market.
The rest of the stocks are all in a sea of red ink. Year to date, these top-25 positions are down by an average 29% since January. My overall portfolio is down by about 25%.
What am I doing to address this dismal performance? Not much. My positions are down because (a) the market is down and (b) there are lingering concerns about the global economy. I don't expect my stocks to turn green until the overall market sentiment improves. Meanwhile, I have been buying more shares with my dry powder cash.
A year is too short a time frame to grade our stock holdings. Stocks are volatile assets and near-term performances reflect ongoing economic conditions. Longer term, I believe these top-25 businesses are on sound footings. I expect them to weather the current storm and do well once the economy gets going again. Some will do better than others, but they are all strong businesses with durable business models.
Take a look at their 5- and 10-year total returns (including dividends) in the table below. This assumes that investors bought shares once and held them for the following five and ten years.
These historical returns are not too shabby. Only four have negative returns in the last five years. And none of them caused any losses to investors who held them for ten years. It shows the quality and longevity of these businesses. Of course, these are theoretical performances, only achieved on paper by some hypothetical investor who buys once and holds them.
However, my own real-world portfolio results are even better. I have held most of these businesses for longer than ten years. In fact, my weighted average holding period is 12.5 years. So how have these stocks fared in my portfolio. Here are my real-world dollar-weighted performances: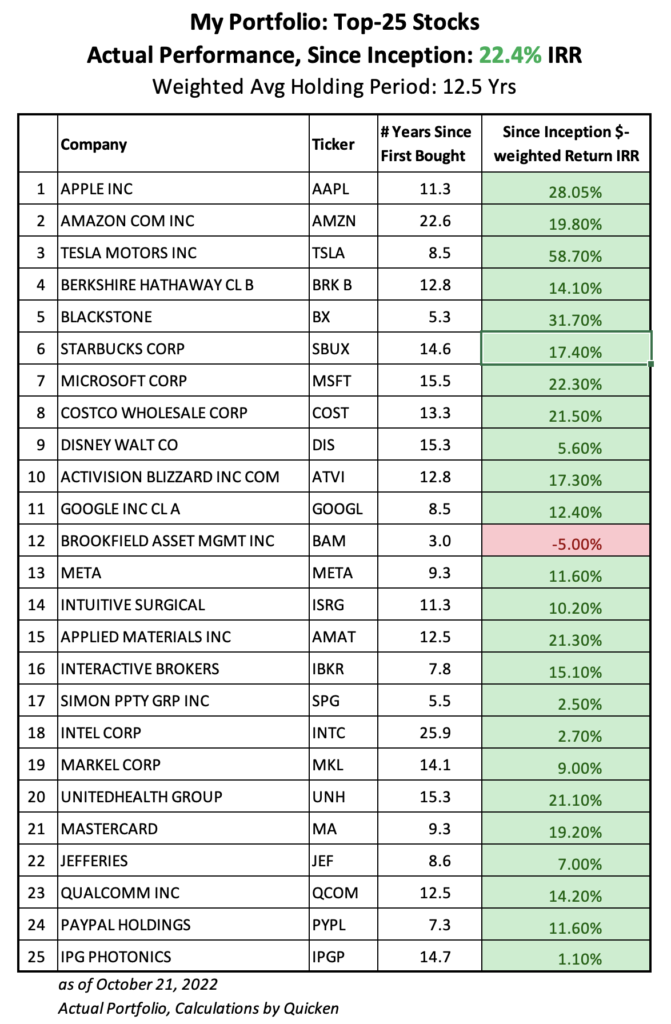 As you can see, I've had great returns since I first bought them. There is just one company, Brookfield, where I haven't generated profits (yet). But it is also my newest position. I only started buying its shares three years ago. It is too early to judge Brookfield since I buy for a minimum 5-year period. Combined, these 25 positions (considering first and all subsequent purchases I've made plus dividends collected) have resulted in 22.4% total annual return in my portfolio.
It's true that past performances do not guarantee future results. I don't expect these stocks to behave exactly like they did in the last five or ten years. But there are two takeaways from studying their history. One, for good businesses, longer term performances can easily outweigh any single-year declines. Two, high quality businesses ride through recessions and bear markets just fine. One example from my portfolio is Starbucks (SBUX). First bought in March 2008, it has gone through two severe recessions (2008 and 2020) and is in the middle of an on-going one. Yet, my average annual return today is a healthy 17.4%, notwithstanding that SBUX shares are down 26% this year.
Three years ago, in October 2019, I shared a list of stocks that I'd held for ten or longer. See this: Stocks Held for a Decade. Today, I have several new entries to add to that list. Barring any adverse changes in the industries they operate in, I expect that all my top-25 stocks that I shared above would eventually make it to that list. Good businesses are for keeps.